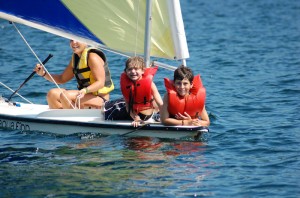 You have already decided your child is ready for his first sleepaway camp experience. So when is the best time to begin the search? I am often asked., "Am I too early?" or "Am I too late?"
The answer is it is never too early or too late to begin to explore the world of camps. If you know you will be enrolling for 2021, Winter or Spring are great times to begin to explore options and plan tours of camps for Summer 2020. But if you are like most parents, planning that far ahead is not how you operate, so you will begin the search for 2020 whenever you have time between now and Spring. Here are some answers to the questions I am asked most often about timing:
Will the "best" camps already be full?
In a word, NO! Just because a camp fills sooner or later does not determine whether that camp is "better."  When a camp fills depends on a number of factors including size, types of sessions and numbers of returning campers, to name a few.
Should I be visiting the camp before enrolling?
A visit is NOT a prerequisite to finding the right fit. If you have the foresight to begin a search a full year or more ahead, you will want to visit, but most families do not. In fact, many camp directors will come to your home if you ask them. And if this does not happen, don't worry; an extensive phone call with the director and/or a skype or facetime can work just as well.  A visit in the "off" season can sometimes be a turn off as campers are not there, and many of the facilities are shut down.
Is Spring too late to look for camps?
NO! While ideally you will begin your search the previous Fall or Winter, many wonderful camps still have space in certain age groups or sessions well into Spring. It will help if you are flexible with which sessions/dates your child attends.
Holiday time is the perfect time to think Summer. Beginning a camp search over the Winter break is a wonderful gift to your child.