**UPCOMING WEBINAR**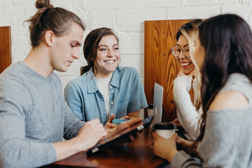 Set yourself apart this Summer!
Find out everything you need to know about spending Summer '21 living & learning on a college campus. Hear from Directors, as they present what makes their pre-college programs enriching and purposeful. Discussion points will include:
*Universities in the US that will host programs
*International programs running at acclaimed universities
*Inspiring academic courses, electives & activities
*Programs specifically designed for curious-minded, high achieving students
*College Credit Options
*Covid safe protocols
During this ever-changing landscape for summer programs in the time of Covid, Tips on Trips and Camps; a Free Summer Advisory Service, is working together with our program partners to bring you the very latest on what WILL run, when and how. With students' interests and enrollments at an all-time high, you will not want to miss the opportunity of learning all that's happening this Summer!
Register for the webinar by clicking here.
IN-PERSON PROGRAMS: APRIL 6, TUESDAY @ 4:00PM (EST) and @ 7:00PM (EST)
ONLINE PROGRAMS: APRIL 20, TUESDAY @ 4:00PM (EST) 
*Please feel free to attend any of these sessions for any amount of time you see fit.