The trunk and duffle bag are ready for filling, the name tags are in place, and now it's time to choose a few treats for stashing in between your camper's essentials. I'm not talking about candy or cell phones. Books are the treat that every camp welcomes and hopes to find with your child's sneakers and shower tote. Whether you have a child who enjoys reading or not, my best summer camp advice is to send along a few books. Many kids discover a love of reading at camp, and rest hour and bedtime are perfect times for trying a new book.
I recently asked children's author Lauren Abbey Greenberg for her picks for best new books for campers. I highly recommend Lauren's new book, The Battle of Junk Mountain (description below), which is set in Maine and perfect for 4th-6th graders. Each title links to Amazon for easy ordering.
Chapter book (grades 2-4)
Beep & Bob: Too Much Space! (Aladdin) Written and Illustrated by Jonathan Roth (part of a series) After being humiliated while on a field trip to Pluto, Bob, with the help of his alien friend Beep, tries to change his personality and overcome his fears (heights, darkness, space, and spiders) before the next field trip to a black hole.
Middle Grade (grades 4-6)
The Peculiar Incident on Shady Street (Aladdin) by Lindsay Currie A girl unravels a centuries-old mystery after moving into a haunted house in this deliciously suspenseful mystery.
Hello, Universe (Greenwillow Books) by Erin Entrada Kelly Hello, Universe is a funny and poignant neighborhood story about unexpected friendships. Told from four intertwining points of view—two boys and two girls—the novel celebrates bravery, being different, and finding your inner bayani (hero).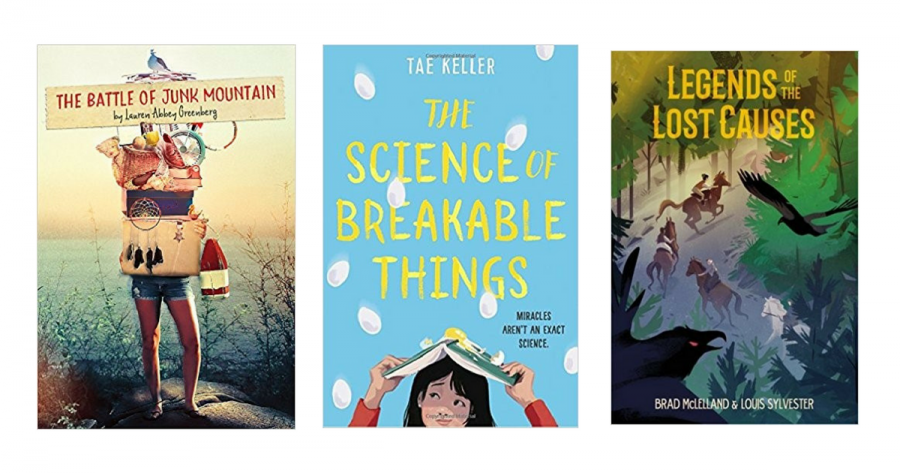 The Battle of Junk Mountain (Running Press) by Lauren Abbey Greenberg A 12-year-old girl returns to the Maine coast, hoping for another carefree summer but finds herself confronting a strained friendship, a grandmother who's a hoarder, and the danger of trying to hold on too hard to one's past.
The Science of Breakable Things (Random House Books for Young Readers) by Tae Keller Middle schooler Natalie's year-long assignment to answer a question using the scientific method leads to truths about her mother's depression and her own cultural identity.
Legends of the Lost Causes (Henry Holt and Co.) by Brad McLelland and Louis Sylvester An action-packed adventure set in the Wild West filled with a band of orphan avengers, a cursed stone, and a horde of zombie outlaws.
YA / Teen Reads
Children of Blood and Bone (Henry Holt and Co.) by Tomi Adeyemi Seventeen-year-old Zélie, her older brother Tzain, and rogue princess Amari fight to restore magic to the land and activate a new generation of maji, but they are ruthlessly pursued by the crown prince, who believes the return of magic will mean the end of the monarchy.
One of Us is Lying (Delacorte Press) by Karen McManus "Pretty Little Liars meets Breakfast Club." When the creator of a high school gossip app mysteriously dies in front of four high-profile students, all four become suspects. It's up to them to solve the case.
The Hazel Wood (Flatiron Books) by Melissa Albert Seventeen-year-old Alice and her mother have spent most of Alice's life on the road, always a step ahead of the uncanny bad luck biting at their heels. But when Alice's grandmother, the reclusive author of a cult-classic book of pitch-dark fairy tales, dies alone on her estate, the Hazel Wood, Alice learns how bad her luck can really get.